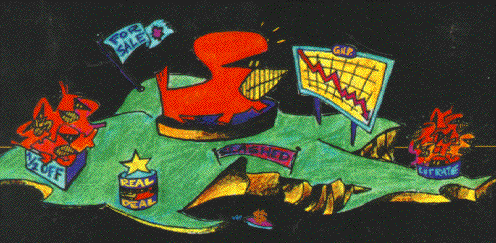 ---
Music
Notes
When I was a kid, I was obsessed with Disney soundtracks and refused to listen to "all that rock garbage, like the New Kids on the Block. Ewww!!!" :) Well, then they started to play good music on the radio, and I became a music freak. Thank God for musicians who realize over- choreographed dancing and bad synthesizers do not music make. I've got a rather eclectic taste in music, ranging from Canuck bands like Moxy Fruvous, my absolute faves, to female singer-songwriters of the Lilith ilk, to musicals, to movie soundtracks ... it just goes on and on. Check out these links, especially the ones you don't recognize - who knows, they might turn out to be the next big thing!
---
Eclectic Melodies
These guys are a Torontonian quartet who started out as street buskers before going on to achieve an international recording contract (ching ching!) with their political and diverse sound. They rock!
Okay, what with "One Week" being one of the hits of the summer, everyone should've heard of these guys by now! I love my Scarbarian geeks, they rock!
Yup, yet another gang of Canuck guys. I've got this thing for folk-rock bands of Canuck guys. :) Anyway, GBS are sorta like a Celtic Moxy, you could say - fun, kick up your heels kinda music.
The Strawbs are a funky husband-and-wife duo - singer Roberta Carter Harrison and songwriter/keyboardist Ken Harrison. Their songs are eclectic and very cool, and so is this page, designed by Ken.
"Bitch" was the anthem of the year for me, but Meredith ain't no one hit wonder. This girl definitely rocks. Be sure to check out the cool "song diaries" on this site.
Everyone knows the Jewel story - poor Alaskan girl realizes her dream, yadda yadda. What most people don't know is how intelligent and creative this girl is, lyrically and in so many other ways.
Chantal is a talented, up-and-coming Canadian singer-songwriter with an incredible talent for writing gorgeous, soul-searching lyrics. She also is an amazing pianist - wow.
Yeah, I like Lisa Loeb. So what? Who said all music has to be deep? Her music is cute and fun to listen to, she plays a rocking guitar, and I love her funky glasses. :)
Melanie is a sweet-voiced singer-songwriter from Halifax whose second album, "Adam's Rib", is due out on Sept. 29. Her first single rocks, the site is cool, and she's amazing! Check it out!
Tara is another young singer-songwriter stemming from Nettwerk, a rising Canadian record company in Vancouver which also spawned Sarah McLachlan. Her debut CD, Silence, is haunting and ethereal.
This is a girl whose voice was made for filling huge amphitheatres - she's got LUNGS! Although I often say Amanda couldn't live without the words "yeah" and "baby", it's half the fun. :)
She sings about love, loss, death and other cheery subjects. Who'd have guessed that Jann is one of the funniest people around? She should have her own stand-up show! And she can definitely sing.
My Lilith discovery of '98... Natalie Merchant. Amazing voice, lyrics that'll make you laugh and cry, and she's so adorable in concert!
---
The Music World
This cool site lists any TV appearances made by major musicians on a daily basis. Obsessed with any particular artist or band? With Rock On TV, you'll never miss another appearance!
Home of Jewel, Tori Amos, radio-hit bands du jour Matchbox 20 and Sugar Ray, and many, many others.
Home of Paula Cole and tons of movie soundtracks.
Home of all those catchy cartoon soundtracks we'll never grow too old for.
Home of Amanda, Chantal, Fiona Apple, that ubiquitous Titanic soundtrack, and other stuff.
The all-female summer music festival is absolutely amazing. Almost all my favourite artists have been on or will be part of Lilith, and this site is gorgeous. Check it out.
---

You're music lover number
!